Overview
The 8-station kit refill for Cultural Eutrophication and Biodegradable Waste Kit (item #181074 or #181074P) replaces consumed items. Includes materials for 32 students working in groups of 4. Note: This kit refill includes a prepaid coupon to request the perishables later at your convenience. Contact us or return the coupon at least 2 weeks prior to requested delivery date to ensure prompt arrival of materials.
This item is only available from Carolina Biological Supply Company.
Product Families Featuring This Item:
AP Environmental Science Labs
Carolina Investigations® for AP® ® Environmental Science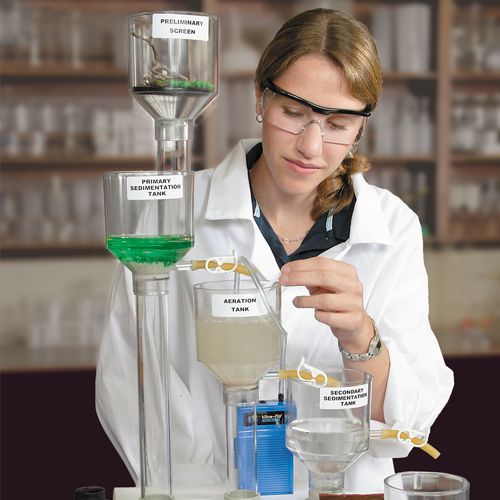 Kits that Support the AP® ® Curriculum and, More Important, Your Classroom
Our exclusive approach to the AP® ® Curriculum

If you are an AP® teacher, you go out of your way to help your students perform successfully on the AP® exam. Carolina AP® Environmental Science Kits are specifically designed to help you do just that.
Carolina Investigations® for AP® ® Environmental Science Kits are designed to help AP® teachers help their students achieve exceptional results by:
Facilitating the successful integration of inquiry-based learning into the laboratory experience
Using teacher-developed and field-tested activities that are designed for the AP® classroom
Cultivating students' conceptual understanding of the topics covered, while allowing them to draw upon real-world connections
Open-ended labs let students design their own activities for enhanced critical thinking
Integrating mathematics and analytical thinking through the graphing and interpretation of student-collected data
Reinforcing knowledge by connecting concepts to students' lives
Minimizing teacher prep and cleanup time
Carolina Investigations® for AP® Environmental Science kits offer a unique perspective on the world around your students. Allow them to experience labs that focus on 4 distinct subject areas that relate to Earth Systems & Resources, Ecological Systems, Issues & Impacts, and Sustainability & Solutions. Pick various topics from each strand to create your own robust hands-on lab curriculum. Focus on labs that can be performed in your classroom or explore and sample your surrounding environment. Carolina has everything you need to outfit your AP® Environmental Science classroom or lab.
Carolina Biological Supply Company: Supporting AP® for Over 25 Years
Carolina is proud supply unique kits and activities that are specifically designed for the AP® Environmental Science curriculum. These environmental science kits were developed using the College Board® APES course description. They highlight subjects addressed on each APES exam and include real-world labs and field exercises that make learning more relevant and increase retention.
Our staff continually works with real AP® teachers to design, develop, and build products that meet AP® teachers' needs. We back all of our products with unparalleled support and our 100% Satisfaction Guarantee.
Let us help you help your students score a 5 on the AP® Exam!



Carolina Investigations® for AP® Environmental Science Kits
AP® is a trademark registered and/or owned by the College Board®, which was not involved in the production of, and does not endorse, these products.