Overview
As an alternative to measuring energy flow through primary productivity, students measure the transfer of energy at a higher trophic level and modify environmental conditions to explore their effects on energy consumption. In this lab, Vanessa cardui (painted lady butterfly) larvae, representing a primary consumer, feed on a growth medium that represents a primary producer. Students investigate how efficiently developing butterflies convert food into body mass. They then analyze results, calculate efficiency, and build food chains by constructing ecological pyramids. The lab requires 10 to 15 days to complete. Kit provides materials for 30 students working in pairs and ships with perishable material included.
*AP is a registered trademark of the College Board, which was not involved in the production of, and does not endorse, this product.
This item is only available from Carolina Biological Supply Company.
This item contains living or perishable material and ships via 2nd Day or Overnight delivery to arrive on a date you specify during Checkout. To ensure freshness during shipping, a Living Materials Fee may apply to orders containing these items.
Product Families Featuring This Item:
Resources
How-To & Techniques
Living Organism Care Information
Product Feature Videos
AP Environmental Science Labs
Carolina Investigations® for AP® ® Environmental Science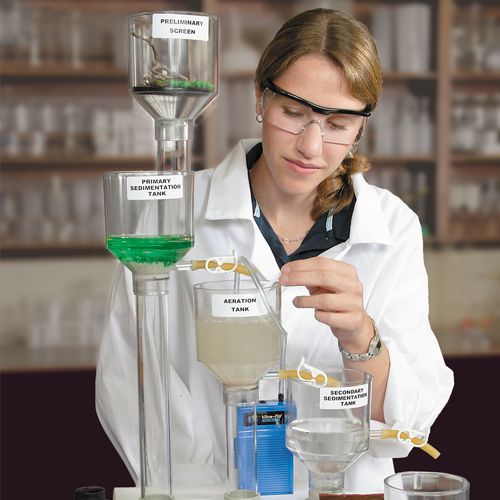 Kits that Support the AP® ® Curriculum and, More Important, Your Classroom
Our exclusive approach to the AP® ® Curriculum

If you are an AP® teacher, you go out of your way to help your students perform successfully on the AP® exam. Carolina AP® Environmental Science Kits are specifically designed to help you do just that.
Carolina Investigations® for AP® ® Environmental Science Kits are designed to help AP® teachers help their students achieve exceptional results by:
Facilitating the successful integration of inquiry-based learning into the laboratory experience
Using teacher-developed and field-tested activities that are designed for the AP® classroom
Cultivating students' conceptual understanding of the topics covered, while allowing them to draw upon real-world connections
Open-ended labs let students design their own activities for enhanced critical thinking
Integrating mathematics and analytical thinking through the graphing and interpretation of student-collected data
Reinforcing knowledge by connecting concepts to students' lives
Minimizing teacher prep and cleanup time
Carolina Investigations® for AP® Environmental Science kits offer a unique perspective on the world around your students. Allow them to experience labs that focus on 4 distinct subject areas that relate to Earth Systems & Resources, Ecological Systems, Issues & Impacts, and Sustainability & Solutions. Pick various topics from each strand to create your own robust hands-on lab curriculum. Focus on labs that can be performed in your classroom or explore and sample your surrounding environment. Carolina has everything you need to outfit your AP® Environmental Science classroom or lab.
Carolina Biological Supply Company: Supporting AP® for Over 25 Years
Carolina is proud supply unique kits and activities that are specifically designed for the AP® Environmental Science curriculum. These environmental science kits were developed using the College Board® APES course description. They highlight subjects addressed on each APES exam and include real-world labs and field exercises that make learning more relevant and increase retention.
Our staff continually works with real AP® teachers to design, develop, and build products that meet AP® teachers' needs. We back all of our products with unparalleled support and our 100% Satisfaction Guarantee.
Let us help you help your students score a 5 on the AP® Exam!



Carolina Investigations® for AP® Environmental Science Kits
AP® is a trademark registered and/or owned by the College Board®, which was not involved in the production of, and does not endorse, these products.
Standards
Correlations to State Standards
Select the appropriate set of options below to view standards met by this product. After making selections, please do not use your browser's "Back" button to return to previous steps. Instead, use the blue links such as Content Unit Search to go back to a previous step in the search.