Overview
Drawn from fasted animals, blood is free of antibiotics and preservatives other than any added anticoagulant. The blood is satisfactory for virological and serological work and for use in microbiological culture media. Contains sodium citrate.
Pooled blood is drawn from several animals (i.e., several sheep for sheep blood), mixed together, and then aliquoted out. Pooled blood is stored under refrigeration at 2 to 8° C; blood is shipped at ambient temperature.
Product shelf life depends on the blood product used. Here's how long you can expect your blood product to last once you receive it:
Citrated products, 2 weeks
Shipped on Tuesday only!! Orders placed by 12:00 noon on Wednesday will ship overnight the following Tuesday. Note: These products are for laboratory use only and are restricted to colleges, universities, and businesses.
This item is sold and shipped to colleges and universities only.
This is a special order item that requires additional time for culturing and processing before it ships. Arrival timeframes are available during Checkout.
Product Families Featuring This Item:
Resources
(M)SDS - (Material) Safety Data Sheets
Carolina's Biological Media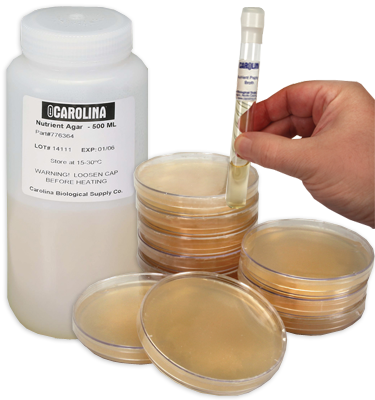 No Backorders Here—Get the Media You Need Now.
Select quality media products for the application you need.
Variety of options—bottles, plates, tubes, and dehydrated media
Fresh, sterility tested—in stock & ready to ship
Free of antibiotics, pesticides, and other chemicals
Vast selection of microbiology supplies and cultures available
Order now, ship later