Overview
This prepaid kit voucher allows you to purchase the Antibiotic Sensitivity Classroom Kit (item #154740P) now, but request shipment of the kit (and its perishable material) later at your convenience. Simply visit www.carolina.com/vouchers to redeem the voucher. Shipping and handling are included in the voucher price. Buy the voucher now, redeem it later, and receive the kit on your schedule!
To learn more about the Antibiotic Sensitivity Classroom Kit, type 154740P in the search field.
This item is only available from Carolina Biological Supply Company.
This item is sold and shipped to educational institutions only by phone. Not available for online purchases or shipping to residential addresses.
Product Families Featuring This Item:
Resources
Articles & News
Life Science
Living Organism Care Information
Product Support
Sample Teacher Manuals
Carolina's Biological Media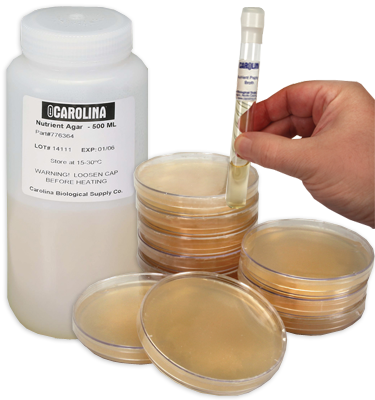 No Backorders Here—Get the Media You Need Now.
Select quality media products for the application you need.
Variety of options—bottles, plates, tubes, and dehydrated media
Fresh, sterility tested—in stock & ready to ship
Free of antibiotics, pesticides, and other chemicals
Vast selection of microbiology supplies and cultures available
Order now, ship later