Overview
Gather laboratory evidence of bacterial antibiotic sensitivity and construct an explanation for how antibiotic resistant bacteria evolve.
PE: HS-LS4-4
Time Requirement: 3 45-minute Class Periods
SEP: Constructing Explanations and Designing Solutions
CCC: Cause and Effect
DCI: LS4.B: Natural Selection
Beginning—Easy to perform; requires no experience in microbiology.
Antibiotics are chemicals produced by one microbe that inhibit other microbes. Students study the effect of 6 different antibiotics on a Gram-positive bacterium and a Gram-negative bacterium. Exercise requires 3 consecutive days to complete. Perfect for introducing beginner students to microbiology and antibiotic production. This Demonstration Kit, designed for one teacher demonstration or a single student or group, includes comprehensive teacher's manual with reproducible student guide, as well as FREE 1-year access to digital resources that support 3-dimensional instruction according to the NGSS.
Note: Kit includes a prepaid coupon to request delivery of perishable materials later at your convenience. Contact us or return the coupon to request delivery of perishables. Keep bacteria cultures at room temperature; do not incubate or refrigerate. Refrigerate antibiotic disks until use; do not freeze.
Product Families Featuring This Item:
Resources
How-To & Techniques
Instruction Manuals & Buying Guides
Living Organism Care Information
Sample Teacher Manuals
Carolina's Biological Media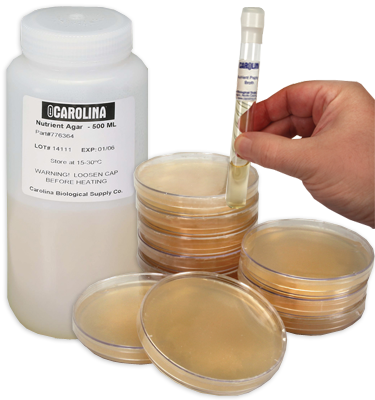 No Backorders Here—Get the Media You Need Now.
Select quality media products for the application you need.
Variety of options—bottles, plates, tubes, and dehydrated media
Fresh, sterility tested—in stock & ready to ship
Free of antibiotics, pesticides, and other chemicals
Vast selection of microbiology supplies and cultures available
Order now, ship later