Overview
Beginning—Easy to perform; requires no experience in microbiology.
The ease with which pathogens can spread through a population is very relevant today as we cope with the AIDS epidemic. Using diluted acids and bases as "body fluids," students engage in a classroom simulation of a spreading epidemic. They then figure out who the original "carrier" was. Students can complete the exercise in 1 class period. The Classroom Kit is designed for use by 4 separate classes of 30 each (120 students total). Complete teacher instructions included.
This item is only available from Carolina Biological Supply Company.
This item is sold and shipped to schools and businesses only. Not available to individuals or residential addresses. Visit our Login & Registration page to learn how to create a Login and link it to an approved school or business account.
Product Families Featuring This Item:
Carolina's Biological Media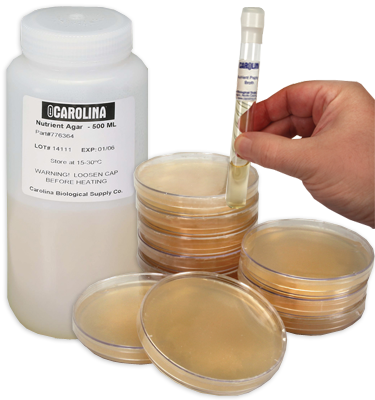 No Backorders Here—Get the Media You Need Now.
Select quality media products for the application you need.
Variety of options—bottles, plates, tubes, and dehydrated media
Fresh, sterility tested—in stock & ready to ship
Free of antibiotics, pesticides, and other chemicals
Vast selection of microbiology supplies and cultures available
Order now, ship later