Overview
18 × 24". Color pictomicrographs magnified 6,000x to more than 2 million x.

Organisms shown are Salmonella spp., Campylobacter jejuni, Vibrio parahaemolyticus, Yersinia entercolitica, Staphylococcus aureus, Escherichia coli, Clostridium botulinum, Bacillus cereus, Clostridium perfringens, Listeria monocytogenes, Norwalk and Norwalk-like viruses, and rotaviruses. Laminated.
Carolina's Biological Media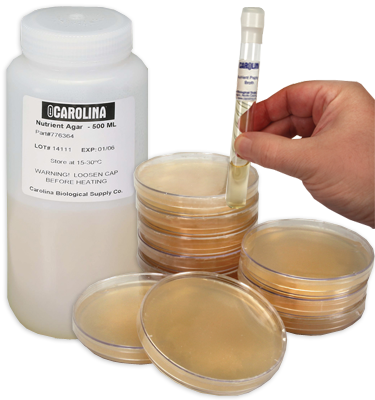 No Backorders Here—Get the Media You Need Now.
Select quality media products for the application you need.
Variety of options—bottles, plates, tubes, and dehydrated media
Fresh, sterility tested—in stock & ready to ship
Free of antibiotics, pesticides, and other chemicals
Vast selection of microbiology supplies and cultures available
Order now, ship later