Overview
Featuring Carolina's Perfect Solution® specimens
Grade 9–College. The Carolina® BioKit® is a single-concept classroom unit that gives students a hands-on approach to biology. Each kit contains materials for at least 30 students plus teacher's manual with reproducible student guide and labeled diagrams, information regarding the specimen's anatomy and physiology, National Science Education Standards met by the dissection, glossary, and list of resources to reinforce the activity. Kits with Carolina's Perfect Solution® specimens also include information about the fixative.
For a class of 30. Students working in pairs study the basic external anatomy of the mink, a carnivorous mammal, and explore its internal organs and organ systems through guided dissection. Kit includes 15 plain Carolina's Perfect Solution® mink and 15 plastic storage bags. Teacher's manual contains dissection instructions, extension activities, reproducible student sheets, background information, glossary, and discussion questions.
This item is only available from Carolina Biological Supply Company.
This item will be shipped via Standard (Ground) delivery when ordered online. If you would like to expedite this item, please call 800.334.5551 for ordering and fee information.
Resources
Classroom Activities
How-To & Techniques
Lab & Classroom Safety Information
Carolina's Perfect Solution® Specimens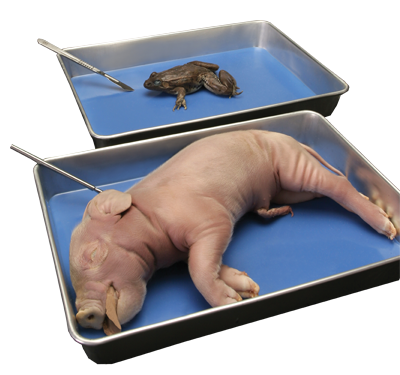 Carolina's Perfect Solution®—Safe. Convenient. Superior.
Our commitment to producing the finest preserved specimens on the market has led us to Carolina's Perfect Solution®, a unique, revolutionary fixative that is dramatically improving the quality of classroom dissection.
No formalin odor
No dangerous off-gassing
No dark and unnatural appearance
Instead, organisms preserved with Carolina's Perfect Solution® retain more lifelike color and texture. Because students study more natural-looking specimens, it is easier for them to identify the structures and, as a result, learn anatomy.
Carolina's Perfect Solution® specimens are safe and nontoxic, which means you need no special ventilation and there's no costly disposal.