Overview
Featuring Carolina's Perfect Solution® specimens. For a class of 30. Students study mammalian anatomy with this comprehensive classroom kit and experience the levels of organization in an organism using the fetal pig as a model. Working in pairs, they complete a detailed dissection of the fetal pig and investigate its various organs and organ systems.
Students also cut tissue samples from the organs and study them under a microscope to gain a better understanding of their structure and fucntion. The Animal Histology: Form and Function CD-ROM (item# 411323) is included to help introduce, enhance, or reinforce the survey of major animal tissue types learned during the dissection.
Carolina's Perfect Solution® Specimens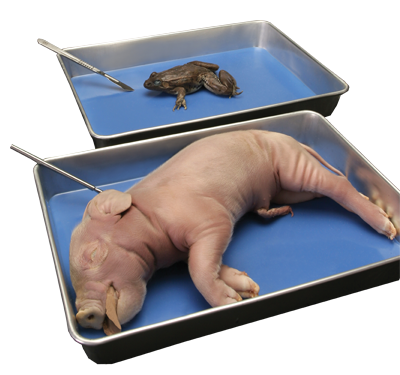 Carolina's Perfect Solution®—Safe. Convenient. Superior.
Our commitment to producing the finest preserved specimens on the market has led us to Carolina's Perfect Solution®, a unique, revolutionary fixative that is dramatically improving the quality of classroom dissection.
No formalin odor
No dangerous off-gassing
No dark and unnatural appearance
Instead, organisms preserved with Carolina's Perfect Solution® retain more lifelike color and texture. Because students study more natural-looking specimens, it is easier for them to identify the structures and, as a result, learn anatomy.
Carolina's Perfect Solution® specimens are safe and nontoxic, which means you need no special ventilation and there's no costly disposal.