Overview
Ideal for all microbiology applications, the SC6 helps you count bacteria and mold colonies with speed and accuracy.
Features include:
Pressure-sensitive count system
Digital readout from 0 to 999
Built-in average count facility
Audible confirmation of each count
Selectable light or dark background
Easy to use—just place a petri dish on the electronic pressure pad and count the colonies by touching them with any probe or felt-tipped pen. Each count registers on the digital display and is confirmed by an audible tone. Count sensitivity is adjustable and the tone can be turned off for quiet operation. Selectable dark background is ideal for translucent colonies. The SC6 comes with a receiver dish, Wolffhuegel graticle, segmentation disc, and 2 centering adapters for standard petri dishes. Comes with complete instructions and a 3-year warranty.
Carolina's Biological Media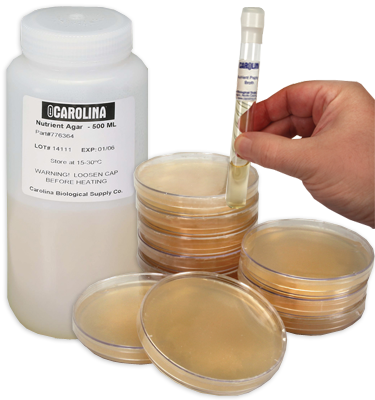 No Backorders Here—Get the Media You Need Now.
Select quality media products for the application you need.
Variety of options—bottles, plates, tubes, and dehydrated media
Fresh, sterility tested—in stock & ready to ship
Free of antibiotics, pesticides, and other chemicals
Vast selection of microbiology supplies and cultures available
Order now, ship later