Overview
Optimal growth medium is potato dextrose agar; optimal growth temperature is 25° C. Every culture is guaranteed for purity and genera. We maintain a large inventory of cultures for immediate delivery, so you can always depend on getting the one you need when you need it.
Fungi can help teach many topics in ecology, genetics, biochemistry, and other disciplines. They are important decomposers, helping recycle organic materials in food webs, which makes them great studies for ecological studies. Fungi should be incubated at room temperature (26° C). Special packaging and transportation costs are extra.
This item contains living or perishable material and ships via 2nd Day or Overnight delivery to arrive on a date you specify during Checkout. To ensure freshness during shipping, a Living Materials Fee may apply to orders containing these items.
This item is only available at Carolina.com.
Product Families Featuring This Item:
Carolina's Biological Media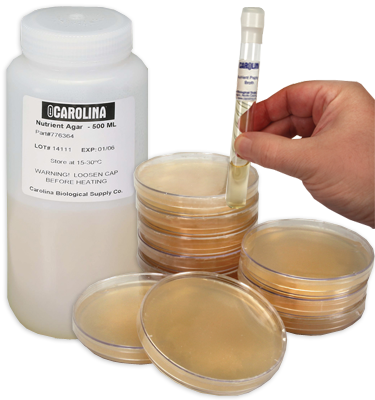 No Backorders Here—Get the Media You Need Now.
Select quality media products for the application you need.
Variety of options—bottles, plates, tubes, and dehydrated media
Fresh, sterility tested—in stock & ready to ship
Free of antibiotics, pesticides, and other chemicals
Vast selection of microbiology supplies and cultures available
Order now, ship later