Overview
This complete, ready-to-grow kit contains inoculated mushroom compost, casings, and instructions. A 12" L x 10" W x 8" H box containing precisely balanced culture medium and white button mushroom (Agaricus bisporus) spawn. All you add is water. During 3 months, this kit can produce approximately 4 lb of mushrooms. Crops grow back every 10 to 14 days until the kit's nutrients are depleted. Kit can be held for up to 10 days at room temperature before starting. Note: Best temperature for growing is 63 to 68° F (±5°). Available September to March (not viable after March). Shipped on Mondays only. Not for export. FOB Marysville, CA. Wt, 12 lb.
The white button mushroom is the most widely cultivated mushroom in the US. It has been bred to produce a mushroom with a uniform cap size and thin stem. The thin stem reduces waste, since it is the cap that is harvested and valued the most. Mushroom caps in the button stage are usually 1 to 3" in diameter, but if left to mature and open, caps can reach 5 to 8" in diameter. Consumers enjoy eating this mushroom because it can be prepared in many ways. Mushroom growers find that the white button mushroom's compact shape makes it an easy mushroom to pick, pack, and ship. White button mushrooms have been sold in markets for the last 30 years.
This is a special order item that requires additional time for culturing and processing before it ships. Arrival timeframes are available during Checkout.
Carolina's Biological Media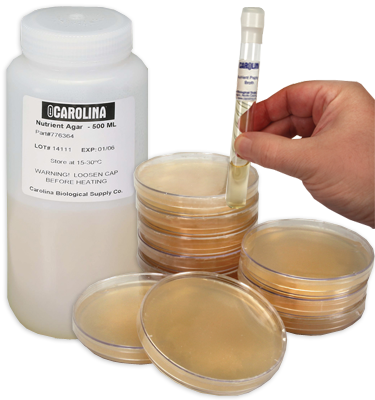 No Backorders Here—Get the Media You Need Now.
Select quality media products for the application you need.
Variety of options—bottles, plates, tubes, and dehydrated media
Fresh, sterility tested—in stock & ready to ship
Free of antibiotics, pesticides, and other chemicals
Vast selection of microbiology supplies and cultures available
Order now, ship later