Overview
Beginning - Easy to perform; requires no experience in microbiology.
The popular "shotgun" fungus, Pilobolus crystallinus, grows on herbivore dung. Herbivores will not graze near their own dung, so the spores must be propelled beyond this "zone of repugnance." The sporangia bend toward the sun and "shoot" their spore mass in that direction.
Students grow Pilobolus until sporangia are mature. Then they place the culture inside a container with a small hole to allow in light. The sporangia will all be propelled toward the hole. Requires about 10 days to conduct the exercise. The adaptation of this interesting fungus to its unique habitat is explained in the teacher's instructions.
Keep agar plates refrigerated until use; do not freeze. ** Kit and perishable components will ship separately and may arrive on different days.
This item contains living or perishable material and ships via 2nd Day or Overnight delivery to arrive on a date you specify during Checkout. To ensure freshness during shipping, a Living Materials Fee may apply to orders containing these items.
Product Families Featuring This Item:
Resources
Living Organism Care Information
Carolina's Biological Media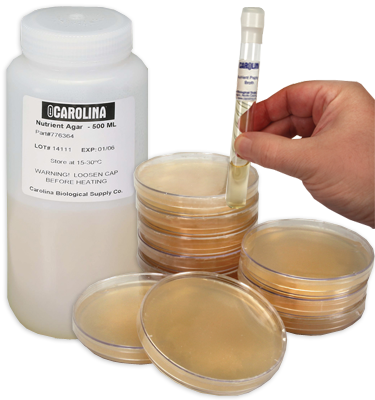 No Backorders Here—Get the Media You Need Now.
Select quality media products for the application you need.
Variety of options—bottles, plates, tubes, and dehydrated media
Fresh, sterility tested—in stock & ready to ship
Free of antibiotics, pesticides, and other chemicals
Vast selection of microbiology supplies and cultures available
Order now, ship later