Overview
Intermediate - Easy to perform; requires some basic training in microbiology.
For a class of 30. Students culture the 3 Sordaria strains and then set up cross plates of wild type x mutant tan and wild type x mutant gray. The gene to centromere distance for tan and gray genes can then be calculated.
Kit includes a prepaid coupon to request the perishable materials later at your convenience. Contact Carolina or return the coupon to request delivery of perishables. Note: Keep fungi cultures at room temperature; do not incubate or refrigerate.
For Educational Use Only. All orders are subject to Carolina's Terms and Conditions
Product Families Featuring This Item:
Carolina's Biological Media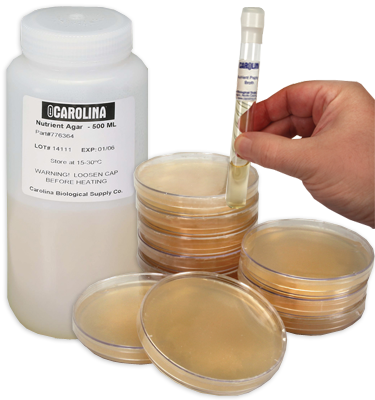 No Backorders Here—Get the Media You Need Now.
Select quality media products for the application you need.
Variety of options—bottles, plates, tubes, and dehydrated media
Fresh, sterility tested—in stock & ready to ship
Free of antibiotics, pesticides, and other chemicals
Vast selection of microbiology supplies and cultures available
Order now, ship later