Overview
Life size. Study the anatomical details of the human form using this top-of-the-line, 20-part model. Remove the female thoracic wall, depicting the external breast on the left and the mammary glands and musculature on the right, to examine the internal organs of the torso. Other removable structures include the 2-part heart; half of each lung; liver; 2-part stomach; intestines with duodenum and pancreas; appendix; right kidney; and the pelvic vessels, including the lower aorta and vena cava. Use the interchangeable female (2-part) and male (4-part) genitalia to explore human reproductive anatomy without having to purchase separate models. Half of the head is dissected to reveal the brain and skull. The eye, including the optic nerve and muscles, can also be removed. Open dissection of the neck and thigh reveals additional important features. Significant structures are numbered and a key is included. Mounted on green base. Size, 40 x 26 x 92 cm.
Somso® Models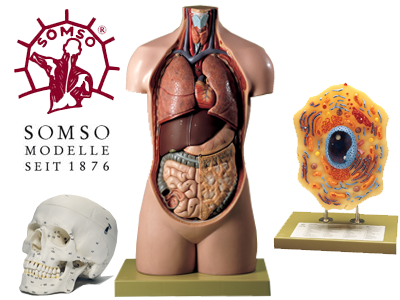 Somso®—Where Science and Art Meet
Superior craftsmanship combined with the guidance of world-renowned anatomists has rendered Somso the world's finest model-maker for over 130 years. This family-owned company has upheld its philosophy of "nature is our model" and designed each human, animal, and plant model with the utmost attention to scale, form and presentation of anatomical features.
Upon order, skilled artisans hand-assemble and hand-paint each model at one of two German-based workshops. All models must meet Somso's extremely high quality standards for scientific accuracy, fine artistry, function, and durability before being shipped to customers. This ensures that every customer receives not only a museum-quality teaching aid but also a unique work of art.
True to the adage "you get what you pay for," when you invest in a Somso model, you pay for excellence.