Overview
Test local waters for pollutants
Design and create an aquatic community
Introduce a pollutant into the aquatic community and compare the effects to a controlled community
Grades 9–12. Explore the causes and effects of water pollution with this laboratory activity. Students first perform a serial dilution to grasp the concepts of ppm and ppb. They test the water in their area for contaminants, including dissolved oxygen, nitrates, and phosphates. The lab concludes with students designing and conducting their own experiment to determine the effects of water pollution on living organisms. Kit includes enough materials for at least 30 students working in groups. Receive a FREE digital Teacher's Manual and Student Guide with kit purchase.

This item is sold and shipped to schools and businesses only. Not available to individuals or residential addresses. For substitution suggestions, please call us at 800.334.5551 (8am to 8pm, ET, Monday-Friday).
This item is only available from Carolina Biological Supply Company.
Residents of HI must contact the HI Department of Agriculture before ordering. Residents in restricted states will receive compatible organisms and/or plants. Canadian orders require a permit from the Canadian government.
This item is sold and shipped to schools and businesses only. Not available to individuals or residential addresses. Visit our Login & Registration page to learn how to create a Login and link it to an approved school or business account.
Due to USDA or USDOT regulations this item may not be shipped to the following locations:

Alabama
Illinois
Indiana
Massachusetts
Maine
Michigan
New Hampshire
New York
Oregon
Vermont
Washington
Wisconsin
Product Families Featuring This Item:
Resources
How-To & Techniques
Interdisciplinary
Living Organism Care Information
Product Support
Professional Growth
Sample Teacher Manuals
Inquiries in Science® Series Kits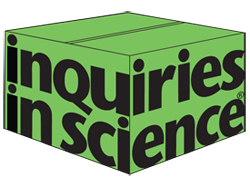 Inquiries in Science® Series Kits
Inquiries in Science® is our exclusive series of hands-on kits specifically designed to help high school students understand abstract, hard-to-grasp science concepts. The series tracks well with most textbooks, and kit topics reflect state science standards and extensive educator input. Since Inquiries in Science® is modular, you can use the kits individually, as a strand, or as a series to teach biology, chemistry, and environmental science.
Improve Student Achievement
Field-tested in classrooms nationwide, Inquiries in Science® employs guided inquiry based on the 5E learning cycle of engage, explore, explain, extend, and evaluate. This inquiry-based approach also promotes STEM (science, technology, engineering, and math) practices. It enables students to:
Consider a real-world question or problem
Plan and conduct an investigation and gather data
Understand the science concept by analyzing data and communicating findings
Apply their findings to the original real-world question or problem and master the science concept
Inquiries in Science® helps students build critical-thinking and problem-solving skills, and encourages creativity, collaboration, and teamwork. It creates an environment in which you and your students work together as active learners.
Disciplines and topics addressed by the kits were organized and selected based on data from numerous sources, including the National Research Council's National Science Education Standards, AAAS's Project 2061 Science Benchmarks, NAEP's Science Framework, and state science education standards from across the US. In addition, the Inquiries in Science® content and activities reflect the science practices and engineering practices, core ideas, and crosscutting concepts outlined by the National Research Council's A Framework for K–12 Science Education (2011) and the Next Generation Science Standards (2013).
Inquiries in Science® Components
Kit—Includes lab supplies (enough for at least 30 students working in groups) plus teacher's manual.
Kit Refill—Replenishes consumed materials
Multi Class Equipment Set—Includes extra lab supplies so you can use the kit in 1 additional class section per day. Note: You'll also need to order an extra kit refill for each additional class section. For example, to teach the same Inquiries in Science® kit in 3 biology sections on the same day, purchase 1 kit, 2 kit refills, and 2 multi class equipment sets.
Digital Teacher's Manual—FREE with kit purchase
Carolina's Biological Media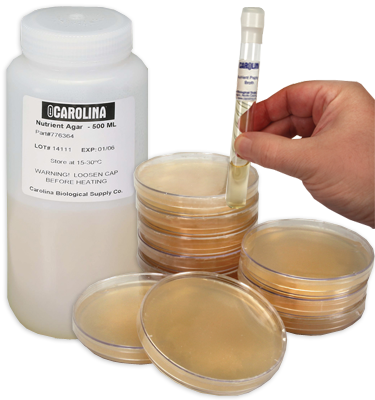 No Backorders Here—Get the Media You Need Now.
Select quality media products for the application you need.
Variety of options—bottles, plates, tubes, and dehydrated media
Fresh, sterility tested—in stock & ready to ship
Free of antibiotics, pesticides, and other chemicals
Vast selection of microbiology supplies and cultures available
Order now, ship later