Concepts & Practices™ in Biology and Chemistry
Concepts & Practices in Biology and Chemistry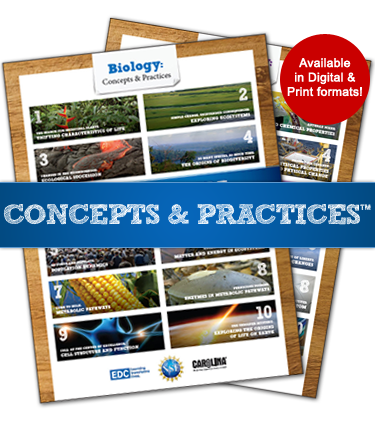 Real-World challenges that students solve through hands-on activities, authentic text, and group discussions.
Introducing a new comprehensive, standards-based high school biology and chemistry curriculum. It enables students to develop scientific literacy, practice 21st-century problem-solving skills, and understand disciplinary core ideas mandated by state and national standards.
Explore Concepts & Practices in Biology
Explore Concepts & Practices in Chemistry
This curriculum consists of modular "Learning Experiences" that:
Offer a full year of biology and chemistry instruction, integrating STEM and Common Core ELA support
Capture and sustain student interest with relevant, real-life case studies taken from the headlines
Support a variety of instructional strategies to accommodate different learning styles
Encourage interest in science
Are teacher and student tested
What teachers are saying
"It's a CURRICULUM! Not a simple textbook."
"Because of the stories, student participation has increased 100-fold."
"The strengths of the curriculum included the requirement of students thinking, analyzing, and questioning rather than just memorizing stuff. Overall, our Ohio Graduate Test results were higher than in the past."
Where can I see it?
To sample a Teacher's Guide and Student Learning Experience, go to www.carolina.com/edc.
Introduce the next generation of leaders to Next Generation Science
We invite you to pilot test this curriculum in your class, school, or district. Start today by contacting Bruce Wilcox at bruce.wilcox@carolina.com.
Concepts & Practices™ has been a joint development effort between educators from: