Overview
Featuring Carolina's Perfect Solution® specimens
Explore reproductive anatomy using Carolina's Perfect Solution® rats. Students compare and contrast the external and internal reproductive anatomy of male and female rats to gain a better understanding of the anatomical differences and changes that occur in the female's anatomy during gestation and embryo development. The detailed dissection guide includes background information, labeled color images and dissection instructions, and a thorough summary of rat pregnancy and embryology. The dissection guide's formatting allows you to customize the lesson to your needs. Explore each specimen individually or dissect all 3 at the same time for a comparative study. This kit is designed for a small group of students working together.
This item is only available from Carolina Biological Supply Company.
Product Families Featuring This Item:
Resources
Lab & Classroom Safety Information
Sample Teacher Manuals
Carolina's Perfect Solution® Specimens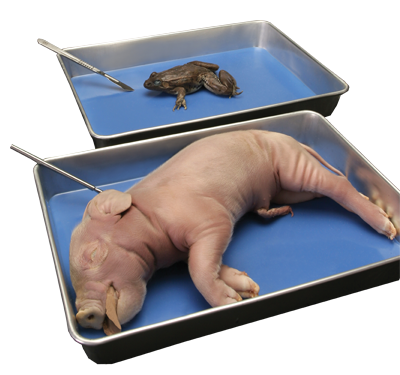 Carolina's Perfect Solution®—Safe. Convenient. Superior.
Our commitment to producing the finest preserved specimens on the market has led us to Carolina's Perfect Solution®, a unique, revolutionary fixative that is dramatically improving the quality of classroom dissection.
No formalin odor
No dangerous off-gassing
No dark and unnatural appearance
Instead, organisms preserved with Carolina's Perfect Solution® retain more lifelike color and texture. Because students study more natural-looking specimens, it is easier for them to identify the structures and, as a result, learn anatomy.
Carolina's Perfect Solution® specimens are safe and nontoxic, which means you need no special ventilation and there's no costly disposal.