Overview
Beginning— Easy to perform; requires no experience in microbiology.
For a class of 30 or for individual project/teacher demonstration. Students determine their susceptibility to dental cavities based on the rate at which bacteria from their mouths produce acid in a carbohydrate medium. As the pH of the medium falls, an indicator changes color. The rate at which the medium changes color is correlated with the student's susceptibility to cavities. Requires 4 days from set up to completion.
** Kit and perishable components will ship separately and may arrive on different days.
Product Families Featuring This Item:
Resources
Living Organism Care Information
Carolina's Biological Media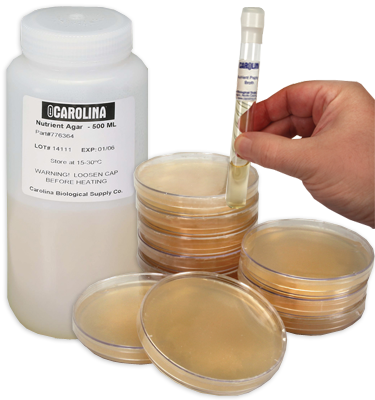 No Backorders Here—Get the Media You Need Now.
Select quality media products for the application you need.
Variety of options—bottles, plates, tubes, and dehydrated media
Fresh, sterility tested—in stock & ready to ship
Free of antibiotics, pesticides, and other chemicals
Vast selection of microbiology supplies and cultures available
Order now, ship later