Overview
The Bacti-Cinerator™ IV conveniently sterilizes loops, needles, and culture tube mouths utilizing infrared heat produced by a ceramic core element. The ceramic element contains no asbestos and ensures maximum sterility without splatter across the work surface area. Complete sterilization occurs within 5 to 7 seconds at optimum sterilizing temperature of 1,500° F (815.6° C). The small footprint makes the Bacti-Cinerator™ IV an ideal instrument for anaerobic and aerobic chambers alike. An indicator light indicates that the unit is in operation, and the weighted cast aluminum stand includes space to store 6 inoculation loop handles. This sterilizer is perfect for use in hoods and anaerobic chambers, but is not intended for use with scalpels, forceps, or sharp instruments. UL listed. 120-VAC. Size 10" L × 4 1/2" W × 12" H.

This item is only available at Carolina.com.
Product Families Featuring This Item:
Carolina's Biological Media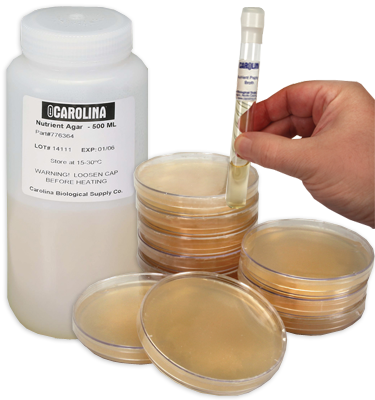 No Backorders Here—Get the Media You Need Now.
Select quality media products for the application you need.
Variety of options—bottles, plates, tubes, and dehydrated media
Fresh, sterility tested—in stock & ready to ship
Free of antibiotics, pesticides, and other chemicals
Vast selection of microbiology supplies and cultures available
Order now, ship later