Overview
This prepaid kit voucher allows you to purchase the Carolina® Forensic Dissection Class Kit (item #221489) now, but request shipment of the kit later at your convenience. Simply visit www.carolina.com/vouchers to redeem the voucher. Shipping and handling are included in the voucher price. Buy the voucher now, redeem it later, and receive the kit on your schedule!
To learn more about the Carolina® Forensic Dissection Class Kit, type 221489 in the search field.
This item is only available from Carolina Biological Supply Company.
This item is sold and shipped to educational institutions only by phone. Not available for online purchases or shipping to residential addresses.
This item will be shipped via Standard (Ground) delivery when ordered online. If you would like to expedite this item, please call 800.334.5551 for ordering and fee information.
Product Families Featuring This Item:
Carolina's Perfect Solution® Specimens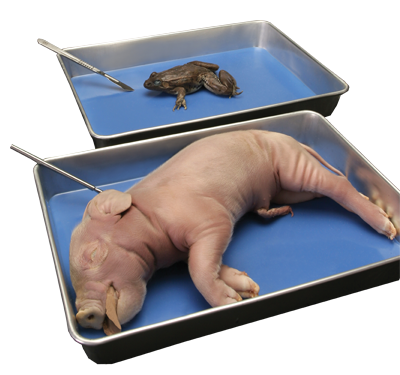 Carolina's Perfect Solution®—Safe. Convenient. Superior.
Our commitment to producing the finest preserved specimens on the market has led us to Carolina's Perfect Solution®, a unique, revolutionary fixative that is dramatically improving the quality of classroom dissection.
No formalin odor
No dangerous off-gassing
No dark and unnatural appearance
Instead, organisms preserved with Carolina's Perfect Solution® retain more lifelike color and texture. Because students study more natural-looking specimens, it is easier for them to identify the structures and, as a result, learn anatomy.
Carolina's Perfect Solution® specimens are safe and nontoxic, which means you need no special ventilation and there's no costly disposal.