Overview
Featuring a Carolina's Perfect Solution® specimen
For 1 or 2 students. Includes a 11 to 14" Carolina's Perfect Solution® double-injected (arteries, red latex; veins, blue latex) pig, a disposable dissection mat, hand wipes, a plastic storage bag, and a Dissection of the Pig (item #455793) laboratory manual.
*Carolina's preserved pigs were not raised for the purpose of dissection; they are a byproduct of the pork industry. Most of the pigs were stillborn and would be discarded were they not reutilized for educational purposes.
This item is only available from Carolina Biological Supply Company.
Resources
How-To & Techniques
Lab & Classroom Safety Information
Carolina's Perfect Solution® Specimens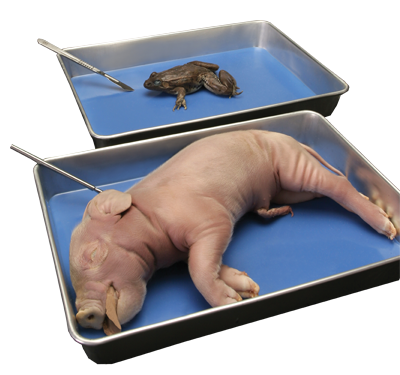 Carolina's Perfect Solution®—Safe. Convenient. Superior.
Our commitment to producing the finest preserved specimens on the market has led us to Carolina's Perfect Solution®, a unique, revolutionary fixative that is dramatically improving the quality of classroom dissection.
No formalin odor
No dangerous off-gassing
No dark and unnatural appearance
Instead, organisms preserved with Carolina's Perfect Solution® retain more lifelike color and texture. Because students study more natural-looking specimens, it is easier for them to identify the structures and, as a result, learn anatomy.
Carolina's Perfect Solution® specimens are safe and nontoxic, which means you need no special ventilation and there's no costly disposal.