Overview
Designed for use with multiple species of bacteria. No autoclave needed. Each bottle of bacteriological medium contains 125 mL of ready-to-use material. This amount is sufficient for pouring up to 5 plates or 15 to 20 tubes. The bottle is sealed to prevent contamination and drying. Prepared Media Bottles are 100% Satisfaction Guaranteed.
Product Families Featuring This Item:
Resources
(M)SDS - (Material) Safety Data Sheets
Life Science
Product Support
Carolina's Biological Media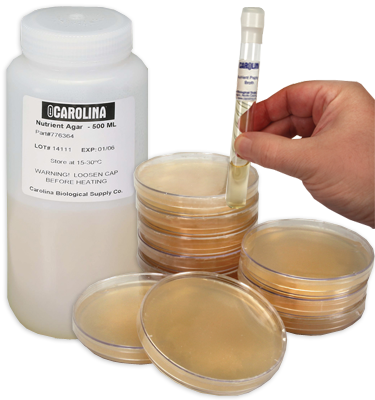 No Backorders Here—Get the Media You Need Now.
Select quality media products for the application you need.
Variety of options—bottles, plates, tubes, and dehydrated media
Fresh, sterility tested—in stock & ready to ship
Free of antibiotics, pesticides, and other chemicals
Vast selection of microbiology supplies and cultures available
Order now, ship later