Overview
Teacher's Choice!

This economical, all-inclusive kit is perfect for science fair projects. An industry standard for nearly a century, nutrient agar supports a broad spectrum of microorganisms, including yeasts and molds.

Ready in 3 steps:
Step 1: Melt to about 60°C
Step 2: Pour and let cool - plates are ready for use in minutes
Step 3: Inoculate and incubate. Results are obtained in 18 to 24 hours.

Kit contains prepared, bottled media and petri dishes to pour 20 plates. No autoclaving required!
Resources
(M)SDS - (Material) Safety Data Sheets
Life Science
Product Support
Carolina's Biological Media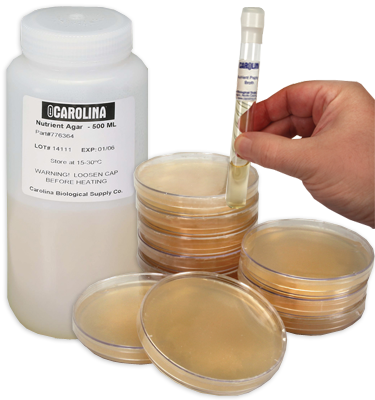 No Backorders Here—Get the Media You Need Now.
Select quality media products for the application you need.
Variety of options—bottles, plates, tubes, and dehydrated media
Fresh, sterility tested—in stock & ready to ship
Free of antibiotics, pesticides, and other chemicals
Vast selection of microbiology supplies and cultures available
Order now, ship later