Overview
Provide your students with a high-quality preserved specimen that enhances their dissection experience and improves the safety of the learning environment. Our unique preservation method provides a slow firming action that results in more lifelike tissues and organs with natural, vivid colors and texture. Teachers and students who have worked with Carolina's Perfect Solution® specimens have been consistently impressed.
Color Injection Type:
Plain: No color injection.

Important Notice: Currently, our supply of preserved cats is limited due to a lack of availability. We sincerely apologize for any delays or inconvenience this causes. We suggest placing your order as early as possible. In addition, if you can receive the specimens early (before you need them), indicate this when placing your order. Please contact Carolina Customer Service (800.334.5551 or customer_service@carolina.com) for more accurate expected ship dates.
This item is only available from Carolina Biological Supply Company.
Product Families Featuring This Item:
Resources
(M)SDS - (Material) Safety Data Sheets
Lab & Classroom Safety Information
Carolina's Perfect Solution® Specimens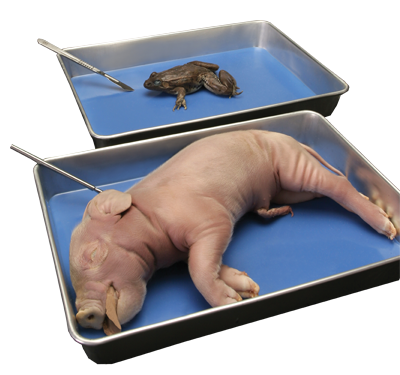 Carolina's Perfect Solution®—Safe. Convenient. Superior.
Our commitment to producing the finest preserved specimens on the market has led us to Carolina's Perfect Solution®, a unique, revolutionary fixative that is dramatically improving the quality of classroom dissection.
No formalin odor
No dangerous off-gassing
No dark and unnatural appearance
Instead, organisms preserved with Carolina's Perfect Solution® retain more lifelike color and texture. Because students study more natural-looking specimens, it is easier for them to identify the structures and, as a result, learn anatomy.
Carolina's Perfect Solution® specimens are safe and nontoxic, which means you need no special ventilation and there's no costly disposal.