Overview
Preserved pig, 11 to 14", double injected (red arteries and blue systemic veins), specimen packed 1 per bag. Free plastic bags included with all vacuum-packed pigs.
Explore mammalian anatomy using Carolina's Perfect Solution® Preserved Pigs. Because pigs are larger than other common vertebrate specimens, they are ideal for students working in pairs or small groups. Conducting pig dissection in your classroom will allow your students to:
Learn vertebrate anatomy
Relate structure and function
Examine organs and organ systems
Investigate similarities in pig and human anatomy
Practice dissection skills
Carolina's Perfect Solution® is a proprietary fixative that produces the safest and highest quality specimens on the market. Perfect Solution® specimens are safe and non-toxic, produce no dangerous off-gassing, and require no special disposal. The life-like color and tissue texture allow students to easily identify structures and learn anatomy.
*Carolina's preserved pigs were not raised for the purpose of dissection; they are a byproduct of the pork industry. Most of the pigs were stillborn and would be discarded were they not reutilized for educational purposes.
This item is only available from Carolina Biological Supply Company.
Product Families Featuring This Item:
Carolina's Perfect Solution® Specimens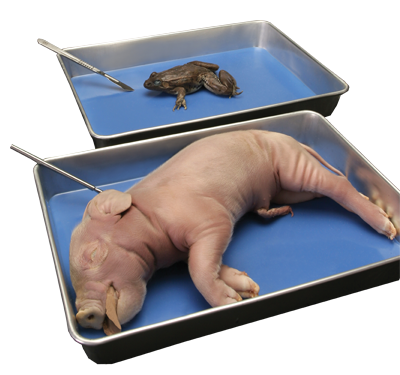 Carolina's Perfect Solution®—Safe. Convenient. Superior.
Our commitment to producing the finest preserved specimens on the market has led us to Carolina's Perfect Solution®, a unique, revolutionary fixative that is dramatically improving the quality of classroom dissection.
No formalin odor
No dangerous off-gassing
No dark and unnatural appearance
Instead, organisms preserved with Carolina's Perfect Solution® retain more lifelike color and texture. Because students study more natural-looking specimens, it is easier for them to identify the structures and, as a result, learn anatomy.
Carolina's Perfect Solution® specimens are safe and nontoxic, which means you need no special ventilation and there's no costly disposal.