NABT BioClub
By David Heller
Director of Product Development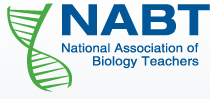 I'm sure there are many different extracurricular organizations at your school. For example, many schools have The National FFA Organization, the Fellowship of Christian Athletes, the National Beta Club, the National Honor Society, language clubs, and math and science clubs. Maybe you are looking for that exciting new way to really engage students at your school in the biological sciences. Perhaps you need an opportunity to do those really neat biology activities that you never have time to work into your classes. Or maybe you just want to help students explore their own interests in biology and mentor those who have career interest in the biological sciences.
Well, let me introduce you to the NABT BioClub. BioClub is a student organization of the NABT that "provides opportunities for students to share and promote interest in the biological sciences." Teachers and students have organized BioClubs in high schools, community colleges, and universities all across the United States and Canada. There is even a virtual BioClub provided through KC Distance Learning. BioClubs are a fantastic way for students to share and expand on their interests in biology. Here are just a few examples of what some BioClubs are doing.
Presenting biology demos at local elementary schools
Starting recycling programs at school and in the community
Planning special events around Charles Darwin's birthday
Coordinating DNA Day activities, Earth Day activities, etc.
Participating in the USA Biology Olympiad
Coordinating special field trips to zoos, aquariums, local university labs, etc.
Bringing in guest speakers on current biology topics from local businesses and universities
BioClubs also conduct special investigations and activities of local interest. For example:
Whiting High School, Laramie, WY—students investigated the effect piles of plowed snow from the city streets would have as they melted into a creek.
Osbourn Park High School, Manassas, VA—students set up a micro-array lab as a simulation of the genomic damage caused by smoking. They also set up a forensic crime scene lab using DNA gel electrophoresis.
Freedom High School, Freedom, WI—students isolated and amplified the 12S rRNA, 16S rRNA gene regions in members of the spider genus Scotinella (Family Corrinidae) and other groups of spiders. Students then obtained gene sequence data to construct Scotinella and other spider groupings, phylogenies, etc.
To learn more about what NABT BioClubs are doing, you can visit the NABT BioClub blog page at http://www.bioclub-bioclub.blogspot.com/, or go to www.nabt.org and click on NABT BioClub. Learning about BioClubs will be an experience that you and your students will certainly enjoy. Who knows, you might decide to start your own BioClub!
For more information on the NABT BioClub, please contact George Sellers at georges1524@gmail.com.