Ultimate Lab Basics Buying Guide
Start the new school year off right by stocking up on top-brand supplies from a name you can trust. Carolina has been a leader in science education materials for 90 years. Let us help you select the proper materials and quantities needed for your classroom or laboratory. Purchase the Carolina™ Basic Lab Equipment Package for a 1-click option to get your lab up and running quickly. Just looking for a list of recommended materials for your lab? Download our "Basic Lab Equipment Needed for Any Lab," which identifies the materials needed to fully stock a lab for 24 students. Want more assistance? Call our customer support team at 800.334.5551 and let our staff help tailor a list that is right for your needs. Shop with confidence—all of our products are 100% satisfaction guaranteed.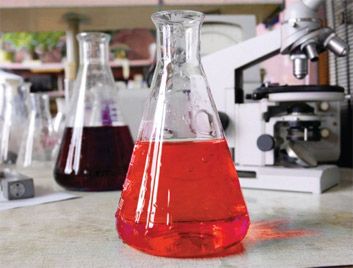 Glass & Plasticware Buying Guide
Glass and plasticware are integral accessories in any science classroom. A well-equipped science lab has glassware in a wide variety of sizes for measuring, mixing, and storing various solutions. The National Science Teachers Association recommends 24 students per lab; Carolina's material recommendations are based on this class size. You will need sufficient glassware for each student in the class, plus additional pieces for storage and instructor use. A chemistry classroom typically has more glassware needs, whereas a biology class may use less glass and plasticware.
All of our glass and plasticware meet the highest quality standards when it comes to safety, durability, and accuracy. All beakers, flasks, cylinders, and test tubes sold by Carolina meet ASTM standards. The composition of the labware is an important consideration when purchasing these items. Consider all applications and usages to ensure you purchase the most appropriate and versatile product that is well suited for the temperatures, chemicals, and uses in your science laboratory. Confused about where to start? Choose the Carolina™ Beaker-Breakers Set 1 to stock your lab with ease. Use the provided table to narrow your specifications.
Glassware and Plasticware Specifications

Name

Transparency
Chemical
Resistance
Max Working
Temp (°C/°F)
Break
Resistance
Microwave
Safe

Autoclavable
*Borosilicate Glass
Clear
Excellent
230/446
Breakable
Yes
Repeatedly
Flint Glass
Clear
Excellent
100/212
Breakable
Yes
No
High-Density Polyethylene (HDPE)
Translucent
Good
120/248
Good
No
No
Low-Density Polyethylene (LDPE)
Translucent
Good
80/176
Good
Yes
No
Polycarbonate (PC)
Clear
Poor
135/275
Good
No
Limited
Polymethylpentene (PMP)
Clear
Good
175/347
Fair
Yes
Repeatedly
Polyproplene (PP)
Translucent
Excellent
135/275
Excellent
Yes
Repeatedly
Polystyrene (PS)
Clear
Poor
90/194
Fair
No
No
Polyvinylchlorida (PVC)
Clear
Fair
70/158
Fair
Yes
No
*Note: Pyrex® (Corning®) and Carolina brands are borosilicate glass.
Get Teacher Tips and Exclusive Offers

Sign up to receive useful teacher tips and exclusive discounts, starting with $25 off your next order.

Help

Our Company

Stay Connected