Overview
Through observation and dissection, students learn about the structure of the eye. The cow eye is ideal because its large size makes for easy identification of the eye's components. The kit provides a step-by-step student guide (with labeled color images) for 1 or 2 students to participate in an introductory-level dissection activity that includes locating and identifying external and internal features of the eye. Also comes with a teacher's manual with instructional tips and additional resources.
FREE 1-year access to digital resources that support NGSS instruction included.
This item is only available from Carolina Biological Supply Company.
Carolina's Perfect Solution® Specimens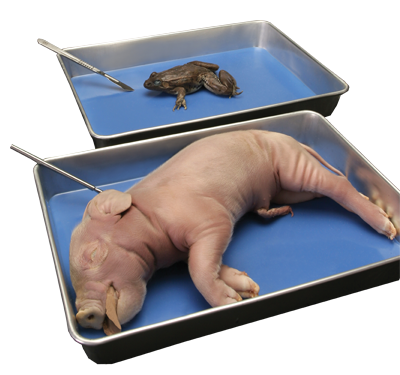 Carolina's Perfect Solution®—Safe. Convenient. Superior.
Our commitment to producing the finest preserved specimens on the market has led us to Carolina's Perfect Solution®, a unique, revolutionary fixative that is dramatically improving the quality of classroom dissection.
No formalin odor
No dangerous off-gassing
No dark and unnatural appearance
Instead, organisms preserved with Carolina's Perfect Solution® retain more lifelike color and texture. Because students study more natural-looking specimens, it is easier for them to identify the structures and, as a result, learn anatomy.
Carolina's Perfect Solution® specimens are safe and nontoxic, which means you need no special ventilation and there's no costly disposal.