Overview
This DVD program describes the discovery of viruses and their structure, how viruses are studied, how they infect their hosts, and how they replicate. Details are provided on the T4 bacteriophage and retroviruses such as HIV. The bacteria section uses compelling microscopy of living bacteria to examine their structure, physiology, behavior, and the vital roles these microbes play in the biosphere, including oxygen production (cyanobacteria), decomposition, nitrogen fixation, and as parasites and helpful symbionts. DVD includes an illustrated PDF teaching guide. Close-captioned. 45 minutes. 2004.
This item is only available at Carolina.com.
Carolina's Biological Media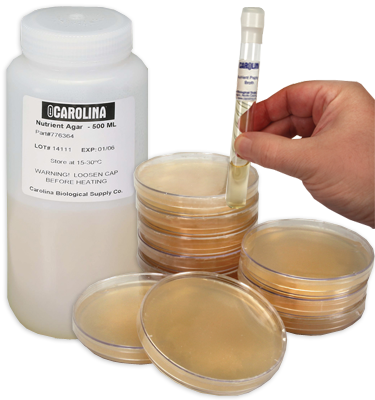 No Backorders Here—Get the Media You Need Now.
Select quality media products for the application you need.
Variety of options—bottles, plates, tubes, and dehydrated media
Fresh, sterility tested—in stock & ready to ship
Free of antibiotics, pesticides, and other chemicals
Vast selection of microbiology supplies and cultures available
Order now, ship later