Overview
Beginning - Easy to perform; requires no experience in microbiology.
Start with the basics of bacteriology. Using simple staining techniques, students examine bacteria and identify their basic morphology. Kit comes with cultures, staining supplies, and teacher's manual with student guide. Additional materials are needed but not supplied, including a microscope with an oil immersion objective.
This item contains living or perishable material and ships via 2nd Day or Overnight delivery to arrive on a date you specify during Checkout. To ensure freshness during shipping, a Living Materials Fee may apply to orders containing these items.
This item is sold and shipped to schools and businesses only. Not available to individuals or residential addresses. Visit our Login & Registration page to learn how to create a Login and link it to an approved school or business account.
Resources
Instruction Manuals & Buying Guides
Living Organism Care Information
Carolina's Biological Media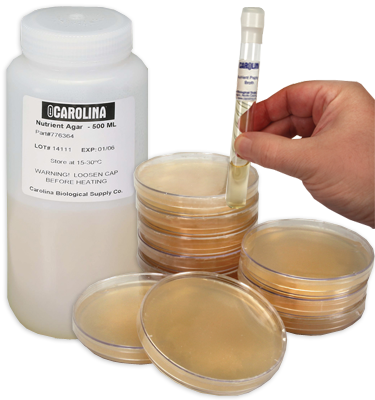 No Backorders Here—Get the Media You Need Now.
Select quality media products for the application you need.
Variety of options—bottles, plates, tubes, and dehydrated media
Fresh, sterility tested—in stock & ready to ship
Free of antibiotics, pesticides, and other chemicals
Vast selection of microbiology supplies and cultures available
Order now, ship later