Overview
Looking for an activity that demonstrates the sulfur cycle and introduces your students to diverse types of prokaryotes? This kit allows students to observe layers of microbes by growing their own microbial mat. They learn about the biogeochemical sulfur cycle and draw connections between the sulfur cycle and microbial activity in the microbial mats. Students share their individual observations and discoveries with classmates, and gain experience in slide making and microscopy. For a classroom of 30 students working in groups of 3; conducted weekly for 4 weeks.
Resources
Living Organism Care Information
Sample Teacher Manuals
Carolina's Biological Media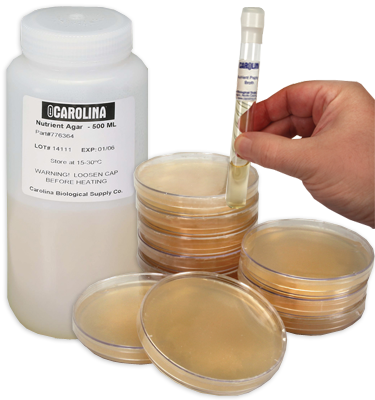 No Backorders Here—Get the Media You Need Now.
Select quality media products for the application you need.
Variety of options—bottles, plates, tubes, and dehydrated media
Fresh, sterility tested—in stock & ready to ship
Free of antibiotics, pesticides, and other chemicals
Vast selection of microbiology supplies and cultures available
Order now, ship later
Standards
Correlations to State Standards
Select the appropriate set of options below to view standards met by this product. After making selections, please do not use your browser's "Back" button to return to previous steps. Instead, use the blue links such as Content Unit Search to go back to a previous step in the search.