Overview
To prepare media add 22 g of Motility Test to a liter of distilled water. Follow instructions. The media will not be sterile until autoclaved prior to use. Dehydrated Culture Media. Certificate of Analysis available upon request. Our dehydrated bacteriological media are the finest quality available. They are convenient to use, uniform in composition, and stable to spoilage.
Product Families Featuring This Item:
Resources
(M)SDS - (Material) Safety Data Sheets
Product Support
Carolina's Biological Media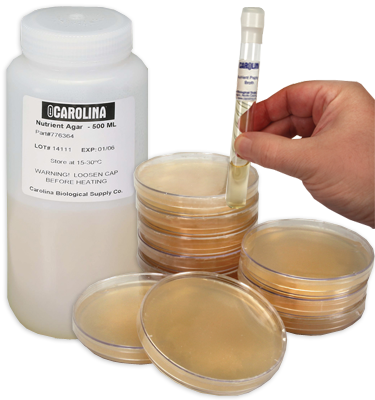 No Backorders Here—Get the Media You Need Now.
Select quality media products for the application you need.
Variety of options—bottles, plates, tubes, and dehydrated media
Fresh, sterility tested—in stock & ready to ship
Free of antibiotics, pesticides, and other chemicals
Vast selection of microbiology supplies and cultures available
Order now, ship later