Overview
Intermediate - Easy to perform; requires some basic training in microbiology.
For a class of 30. Students cross the wild-type Sordaria strain with the mutant tan strain. Hybrid asci are produced containing 4 dark- and 4 light-colored ascospores. Students then use tetrad analysis to calculate the gene to centromere distance in map units for the mutant tan gene. The exercise requires about 10 to 14 days from setup of cross plates to completion. Keep fungi cultures at room temperature; do not incubate or refrigerate.
Kit and perishable components will ship separately and may arrive on different days.
For Educational Use Only. All orders are subject to Carolina's Terms and Conditions
This item contains living or perishable material and ships via 2nd Day or Overnight delivery to arrive on a date you specify during Checkout. To ensure freshness during shipping, a Living Materials Fee may apply to orders containing these items.
Product Families Featuring This Item:
Carolina's Biological Media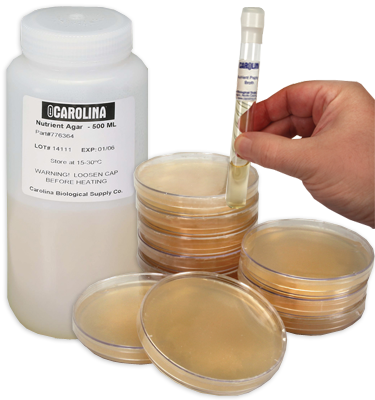 No Backorders Here—Get the Media You Need Now.
Select quality media products for the application you need.
Variety of options—bottles, plates, tubes, and dehydrated media
Fresh, sterility tested—in stock & ready to ship
Free of antibiotics, pesticides, and other chemicals
Vast selection of microbiology supplies and cultures available
Order now, ship later