Overview
Excellent quality model to study the anatomy of the human knee joint
Shows range of motion and functional problems
Valuable addition to anatomy and physical education classes
Somso®. With the increase in knee injuries and the advent of sports medicine, everyone wants to better understand the human knee. Give your students this high-quality model so they can observe its different parts and understand what can go wrong with this vulnerable joint. With this true-to-life model, you can easily demonstrate knee flexion, extension, and inner and outer rotation. Includes an illustrated booklet of knee anatomy and special silicon oil for reconditioning the simulated ligaments. Overall size with base, 18 x 18 x 34 cm. Weight, 1 kg.
Somso® Models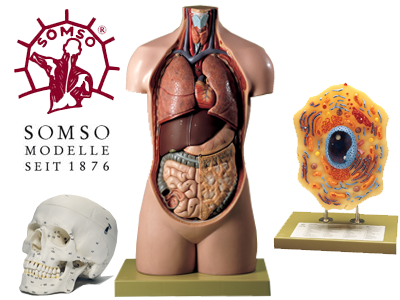 Somso®—Where Science and Art Meet
Superior craftsmanship combined with the guidance of world-renowned anatomists has rendered Somso the world's finest model-maker for over 130 years. This family-owned company has upheld its philosophy of "nature is our model" and designed each human, animal, and plant model with the utmost attention to scale, form and presentation of anatomical features.
Upon order, skilled artisans hand-assemble and hand-paint each model at one of two German-based workshops. All models must meet Somso's extremely high quality standards for scientific accuracy, fine artistry, function, and durability before being shipped to customers. This ensures that every customer receives not only a museum-quality teaching aid but also a unique work of art.
True to the adage "you get what you pay for," when you invest in a Somso model, you pay for excellence.