Overview
Somso®. Use this medical-quality articulated skeleton model to study the skeletal anatomy of the adult male. The highly detailed skeleton shows all the anatomical details of bone structure. The skull has 32 individually mounted teeth, a cut calvarium, and a spring-held mandible. The vertebral column is flexible and extremities can be removed for individual study. The skeleton is mounted upright on a metal rod that extends from the sacrum. The height of the skeleton can be adjusted by means of a telescoping rod, which can be locked in position. The base features casters, making transport easy. Height and weight, including stand: 180 cm, 11 kg.
This superior classroom skeleton comes with a Human Anatomy Manual.
Product Families Featuring This Item:
Somso® Models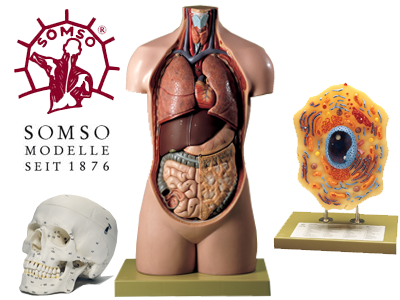 Somso®—Where Science and Art Meet
Superior craftsmanship combined with the guidance of world-renowned anatomists has rendered Somso the world's finest model-maker for over 130 years. This family-owned company has upheld its philosophy of "nature is our model" and designed each human, animal, and plant model with the utmost attention to scale, form and presentation of anatomical features.
Upon order, skilled artisans hand-assemble and hand-paint each model at one of two German-based workshops. All models must meet Somso's extremely high quality standards for scientific accuracy, fine artistry, function, and durability before being shipped to customers. This ensures that every customer receives not only a museum-quality teaching aid but also a unique work of art.
True to the adage "you get what you pay for," when you invest in a Somso model, you pay for excellence.