Overview
Superior quality tool for teaching human skull structures
Hands-on replica that makes bone identification easy
Multiple uses in the classroom
Plastic.
This top-quality human skull model for the classroom makes it easy for students to get their hands and heads into learning the inner workings of the skull. Expertly produced bones provide a complete and accurate look, while an easy-to-use guide simplifies bone identification. This superior human skull model comes with a black plastic storage case with a convenient handle.
Somso® Models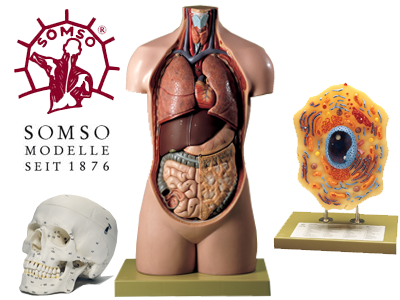 Somso®—Where Science and Art Meet
Superior craftsmanship combined with the guidance of world-renowned anatomists has rendered Somso the world's finest model-maker for over 130 years. This family-owned company has upheld its philosophy of "nature is our model" and designed each human, animal, and plant model with the utmost attention to scale, form and presentation of anatomical features.
Upon order, skilled artisans hand-assemble and hand-paint each model at one of two German-based workshops. All models must meet Somso's extremely high quality standards for scientific accuracy, fine artistry, function, and durability before being shipped to customers. This ensures that every customer receives not only a museum-quality teaching aid but also a unique work of art.
True to the adage "you get what you pay for," when you invest in a Somso model, you pay for excellence.