Overview
Featuring Carolina's Perfect Solution® specimens
Using a preserved sheep heart, a preserved sheep brain, a preserved sheep kidney, and a preserved sheep eye (all four included), students explore the interdependence of organ systems and investigate the specific structures and functions of each organ.
Also includes a set of 4 prepared slides showing detailed sections of mammal cardiac muscle, kidney, cornea, and cerebellum, and a detailed teacher's manual containing background information, classroom dissection procedures, reflection questions, and extension activities for exploring the structure and function of these mammalian organs.
This item is only available from Carolina Biological Supply Company.
Carolina's Perfect Solution® Specimens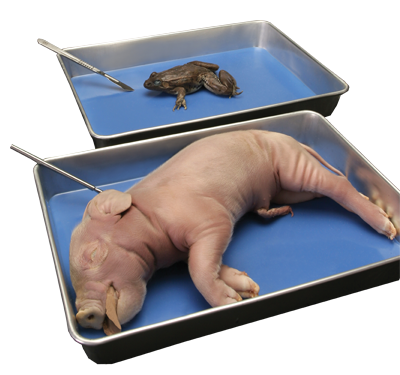 Carolina's Perfect Solution®—Safe. Convenient. Superior.
Our commitment to producing the finest preserved specimens on the market has led us to Carolina's Perfect Solution®, a unique, revolutionary fixative that is dramatically improving the quality of classroom dissection.
No formalin odor
No dangerous off-gassing
No dark and unnatural appearance
Instead, organisms preserved with Carolina's Perfect Solution® retain more lifelike color and texture. Because students study more natural-looking specimens, it is easier for them to identify the structures and, as a result, learn anatomy.
Carolina's Perfect Solution® specimens are safe and nontoxic, which means you need no special ventilation and there's no costly disposal.