Overview
Disposable hypodermic syringes, 5 cc in 1/5 cc, with Luer-Lok tip. Highly useful for measuring and transferring fluids and gas samples. B-D Plastipak® made of inert polyethylene, sealed in individual sterile packets. Thin-line plunger and prominent calibration markings assure accurate measurements. Pack of 15 syringes.

This item is sold and shipped to schools and businesses only. Not available to individuals or residential addresses. For substitution suggestions, please call us at 800.334.5551 (8am to 8pm, ET, Monday-Friday).
Product Families Featuring This Item:
Carolina's Biological Media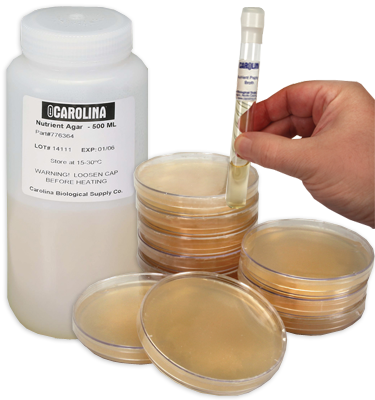 No Backorders Here—Get the Media You Need Now.
Select quality media products for the application you need.
Variety of options—bottles, plates, tubes, and dehydrated media
Fresh, sterility tested—in stock & ready to ship
Free of antibiotics, pesticides, and other chemicals
Vast selection of microbiology supplies and cultures available
Order now, ship later