Overview
Beginning—Easy to perform; requires no experience in microbiology.

Students will:
Prepare bacteria smear slides
Conduct Gram staining to distinguish between bacterial types
Determine the morphology of 4 different bacterial species
For 32 students in 8 groups. Bacteria stain differently because they vary in cell-wall composition. This easy-to-use Gram stain kit allows you to view Gram-positive bacteria (blue) versus Gram-negative bacteria (pink) for bacteriological identification. Kit is designed with bacterial cultures that represent all 3 bacterial morphologies (rods, spheres, and spirals) so students can use classification to identify the bacteria. Requires the use of a microscope with an oil immersion lens (not included). Activity takes 45 min to complete. Kit includes detailed instructions and bacterial cultures.

This item is sold and shipped to schools and businesses only. Not available to individuals or residential addresses. For substitution suggestions, please call us at 800.334.5551 (8am to 8pm, ET, Monday-Friday).
This item is only available from Carolina Biological Supply Company.
Limited Qty: Flammable Liquid - This product is/contains a limited quantity of a DOT regulated hazardous material. This item will not incur a hazmat fee when shipped by ground. Orders shipping to HI and AK are subject to review and may incur additional shipping charges.
This item contains living or perishable material and ships via 2nd Day or Overnight delivery to arrive on a date you specify during Checkout. To ensure freshness during shipping, a Living Materials Fee may apply to orders containing these items.
This item is sold and shipped to schools and businesses only. Not available to individuals or residential addresses. Visit our Login & Registration page to learn how to create a Login and link it to an approved school or business account.
Product Families Featuring This Item:
Resources
Living Organism Care Information
Sample Teacher Manuals
Carolina's Biological Media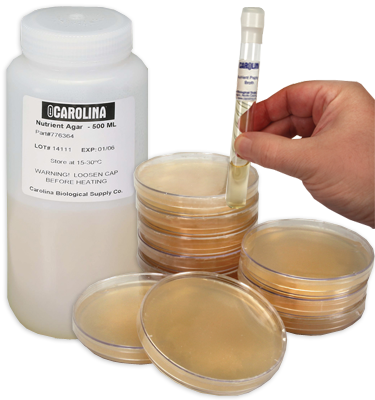 No Backorders Here—Get the Media You Need Now.
Select quality media products for the application you need.
Variety of options—bottles, plates, tubes, and dehydrated media
Fresh, sterility tested—in stock & ready to ship
Free of antibiotics, pesticides, and other chemicals
Vast selection of microbiology supplies and cultures available
Order now, ship later
Standards
Correlations to State Standards
Select the appropriate set of options below to view standards met by this product. After making selections, please do not use your browser's "Back" button to return to previous steps. Instead, use the blue links such as Content Unit Search to go back to a previous step in the search.