Overview
For a class of 24 students. Working in pairs, students dissect 9 animals from different groups, comparing general structures and systems related to digestion, circulation, respiration, and reproduction. Similarities and differences observed among the specimens lead to further discussions of form and function, trends in shared characteristics, and links between groups.

This classroom kit contains everything required for the dissections, plus a detailed instruction manual with reproducible blackline masters, background information, dissection guides for each of the 9 animals, reflection questions, and extension activities.
Resources
Lab & Classroom Safety Information
Life Science
Carolina's Perfect Solution® Specimens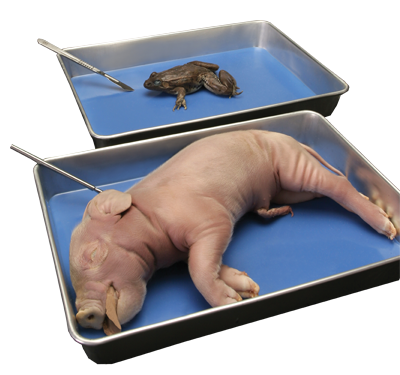 Carolina's Perfect Solution®—Safe. Convenient. Superior.
Our commitment to producing the finest preserved specimens on the market has led us to Carolina's Perfect Solution®, a unique, revolutionary fixative that is dramatically improving the quality of classroom dissection.
No formalin odor
No dangerous off-gassing
No dark and unnatural appearance
Instead, organisms preserved with Carolina's Perfect Solution® retain more lifelike color and texture. Because students study more natural-looking specimens, it is easier for them to identify the structures and, as a result, learn anatomy.
Carolina's Perfect Solution® specimens are safe and nontoxic, which means you need no special ventilation and there's no costly disposal.