Overview
Develop and revise a model for relationships between organ systems through an authentic forensic dissection protocol used on a preserved pig.
PE: HS-LS1-2
Time Requirement: 4 45-minute Class Periods
SEP: Developing and Using Models
CCC: Structure and Function
DCI: LS1.A: Structure and Function
Featuring Carolina's Perfect Solution® specimens
A fresh, new approach to a classic mammalian dissection
Forensic education that really engages students
Provides a real-world link
Capitalize on the current popularity of crime scene investigation TV with this unique forensic lab activity. Students conduct a pig dissection by modeling the protocols used by a pathologist for a human autopsy. They carefully record the external features and use a typical "Y" incision to open the body cavity for a detailed examination. Then they remove all of the organ systems. When students complete the forensic dissection, they return the organs to the body cavity and suture the incisions. A Carolina's Perfect Solution® adult pig heart and pig kidney are also included for comparison with the dissected specimen. A set of 7 prepared slides allows students to extend and enhance the dissection by examining some of the tissue types found within each system.

The detailed teacher's manual and student guide have autopsy instructions, extension activities, reproducible student sheets, background information, a glossary of terms, and dissection questions for discussion. Kit is for a class of up to 32 students.
This item is only available from Carolina Biological Supply Company.
This item will be shipped via Standard (Ground) delivery when ordered online. If you would like to expedite this item, please call 800.334.5551 for ordering and fee information.
Product Families Featuring This Item:
Carolina's Perfect Solution® Specimens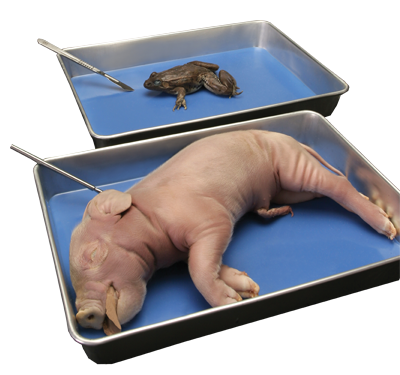 Carolina's Perfect Solution®—Safe. Convenient. Superior.
Our commitment to producing the finest preserved specimens on the market has led us to Carolina's Perfect Solution®, a unique, revolutionary fixative that is dramatically improving the quality of classroom dissection.
No formalin odor
No dangerous off-gassing
No dark and unnatural appearance
Instead, organisms preserved with Carolina's Perfect Solution® retain more lifelike color and texture. Because students study more natural-looking specimens, it is easier for them to identify the structures and, as a result, learn anatomy.
Carolina's Perfect Solution® specimens are safe and nontoxic, which means you need no special ventilation and there's no costly disposal.