Overview
No preparation
No wasted media
Extended shelf life of 1 year (unopened)
A microbiological media "plate" that consists of 2 clear plastic film sheets with sterile medium in between. This super-thin layer of medium supports the growth of microorganisms just like the surface of an agar plate. A class set stacks in the same space as 1 petri dish! Petrifilm™ plates can be counted on a standard colony counter or other magnified light source.
Note: Store unopened Petrifilm™ plate pouches at a temperature of 8° C (46° F). Return unsued plates to pouch and store resealed pouches in a cool, dry place for no longer than 1 month. Expiration dates and lot numbers are noted on each package of Petrifilm™ plates.
This item contains living or perishable material and ships via 2nd Day or Overnight delivery to arrive on a date you specify during Checkout. To ensure freshness during shipping, a Living Materials Fee may apply to orders containing these items.
Product Families Featuring This Item:
Resources
Instruction Manuals & Buying Guides
Carolina's Biological Media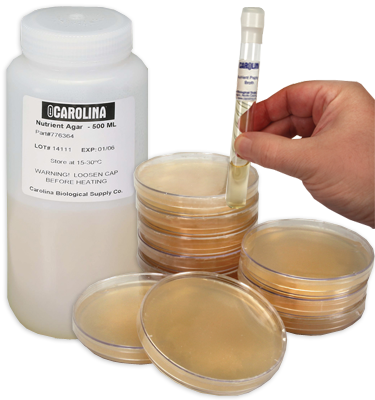 No Backorders Here—Get the Media You Need Now.
Select quality media products for the application you need.
Variety of options—bottles, plates, tubes, and dehydrated media
Fresh, sterility tested—in stock & ready to ship
Free of antibiotics, pesticides, and other chemicals
Vast selection of microbiology supplies and cultures available
Order now, ship later