Overview
Preserved rabbits are great dissection specimens for studying advanced mammalian anatomy. Students can easily identify mature body systems and musculature. Rabbits are preserved in Carolina's Perfect Solution®, our proprietary fixative that produces the safest and highest quality specimens on the market. The life-like tissue texture and color allow students to easily identify structures and learn anatomy. These specimens are popular alternatives to preserved cats. Using specimens with the skin removed saves valuable lab time when studying the muscular system. Students can begin dissection and study immediately. Plastic bags and waterproof student name tags are furnished free with each rabbit.
Mature (>14" long), double injected (red arteries and blue systemic veins), single packed and shipped in a vacuum-sealed bag. Prices listed are for 1 specimen.
This item is only available from Carolina Biological Supply Company.
Product Families Featuring This Item:
Resources
Lab & Classroom Safety Information
Carolina's Perfect Solution® Specimens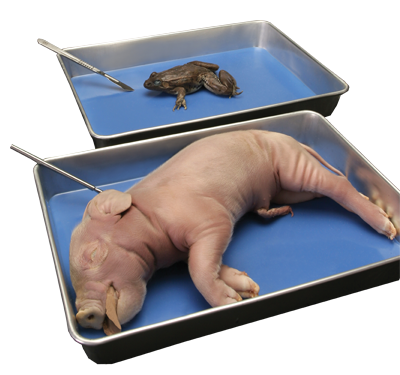 Carolina's Perfect Solution®—Safe. Convenient. Superior.
Our commitment to producing the finest preserved specimens on the market has led us to Carolina's Perfect Solution®, a unique, revolutionary fixative that is dramatically improving the quality of classroom dissection.
No formalin odor
No dangerous off-gassing
No dark and unnatural appearance
Instead, organisms preserved with Carolina's Perfect Solution® retain more lifelike color and texture. Because students study more natural-looking specimens, it is easier for them to identify the structures and, as a result, learn anatomy.
Carolina's Perfect Solution® specimens are safe and nontoxic, which means you need no special ventilation and there's no costly disposal.