Overview
Anolis carolinensis. Carolina's preserved anole lizard adults vary in body length (nose to vent) from 1-1/2 to 3". Females are usually at the smaller end of the size range, while males are at the larger end. The tail of the lizard makes up about 50-70% of the total length of the specimen, bringing the total length to 3"+. Because of their small size, anoles are excellent specimens for comparative morphology and/or external anatomy studies, but they are usually too small for easy dissection and internal anatomy examination. For detailed reptilian dissection, we recommend our iguana specimens, items #227765 and #227766.
Size, 3"+. Plain: No color injection. Shipped in pails or jars, depending on the quantity of specimens ordered. Multiple specimens will be packed in a single pail. Prices listed are for 1 specimen.
This item is only available from Carolina Biological Supply Company.
Resources
(M)SDS - (Material) Safety Data Sheets
How-To & Techniques
Lab & Classroom Safety Information
Living Organism Care Information
Carolina's Perfect Solution® Specimens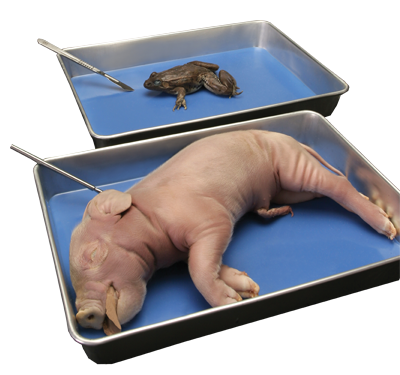 Carolina's Perfect Solution®—Safe. Convenient. Superior.
Our commitment to producing the finest preserved specimens on the market has led us to Carolina's Perfect Solution®, a unique, revolutionary fixative that is dramatically improving the quality of classroom dissection.
No formalin odor
No dangerous off-gassing
No dark and unnatural appearance
Instead, organisms preserved with Carolina's Perfect Solution® retain more lifelike color and texture. Because students study more natural-looking specimens, it is easier for them to identify the structures and, as a result, learn anatomy.
Carolina's Perfect Solution® specimens are safe and nontoxic, which means you need no special ventilation and there's no costly disposal.