Overview
For a class of 30 working in groups of 3. This kit contains 3 activities that highlight the structure and function of eukaryotes, prokaryotes, and viruses.
In the first activity, students design a cell or virus by selecting traceable structures and organelles, and then name the type of drawn cell or virus and describe its characteristics. Next, students trade drawings and practice classification using a dichotomous key.
In the second activity, students practice microscope techniques and hone their observation skills by documenting various morphologies of bacteria and the parasitism of tobacco mosaic virus on a leaf.
In the third activity, students observe Amoeba feeding on Chilomonas, allowing them to visualize functioning organelles and the concept of endocytosis. Provided background information illuminates the leading theories of evolution and the relationship among eukaryotes, prokaryotes, and viruses.
Product Families Featuring This Item:
Resources
Living Organism Care Information
Sample Teacher Manuals
Carolina's Biological Media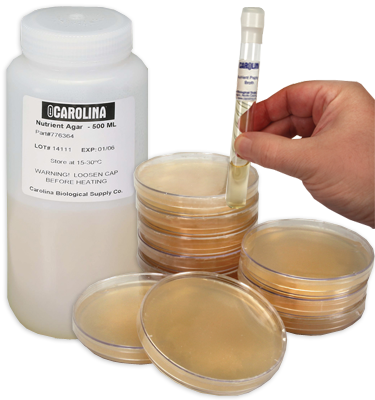 No Backorders Here—Get the Media You Need Now.
Select quality media products for the application you need.
Variety of options—bottles, plates, tubes, and dehydrated media
Fresh, sterility tested—in stock & ready to ship
Free of antibiotics, pesticides, and other chemicals
Vast selection of microbiology supplies and cultures available
Order now, ship later
Standards
Correlations to State Standards
Select the appropriate set of options below to view standards met by this product. After making selections, please do not use your browser's "Back" button to return to previous steps. Instead, use the blue links such as Content Unit Search to go back to a previous step in the search.