Overview
1% iodine, 2% potassium iodide; use to differentiate bacteria based on their ability to hydrolyze starch
Storage Code: Green—general chemical storage
Synonym: IKI
Laboratory Grade - Intermediate purity. Suitable for educational laboratories. Use for qualitative analysis, not quantitative analysis.
This product is specially made for use in science education laboratories; no certificate of analysis is available.
Product Families Featuring This Item:
Resources
(M)SDS - (Material) Safety Data Sheets
Carolina Solution Sheets
Carolina's Biological Media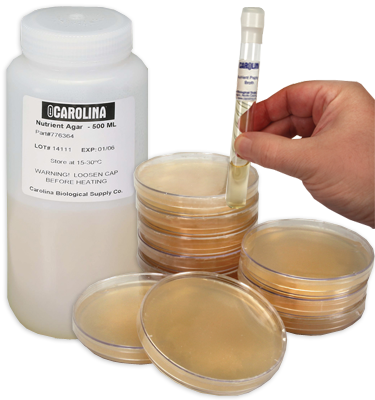 No Backorders Here—Get the Media You Need Now.
Select quality media products for the application you need.
Variety of options—bottles, plates, tubes, and dehydrated media
Fresh, sterility tested—in stock & ready to ship
Free of antibiotics, pesticides, and other chemicals
Vast selection of microbiology supplies and cultures available
Order now, ship later