Providing Effective Remote Hands-On Science Education

Closing the Distance in Remote 3-D Science Learning
This is the second in a series of three articles that address remote science teaching and learning. Article 1 lays the groundwork for common terminology adjusted for remote learning and teaching strategies. This article considers methods for effective remote hands-on science learning. Article 3 examines advantages of teaching science standards remotely.
Providing Effective Remote Hands-On Science Education
Is it possible to effectively teach high school-level, three-dimensional science investigations to students who are learning at remote locations? The answer, according to science education experts and teacher professional development consultants, is an authoritative yes.
"The advantage that science teachers have is the ability to engage learners with concrete examples from nature [the phenomena] that are really motivating," Hedi Baxter Lauffer, a science education consultant and codirector of the Wisconsin Fast Plants® program at the University of Wisconsin-Madison, says. "Teachers can help create that community-of-learners feeling by telling students, 'You may have seen remote learning and it was really boring, but that isn't anything like what you're going to see this year [in science] with me. You're going to be doing labs. You're going to be super motivated by doing something you can see and figuring things out."
The Next Generation Science Standards* (NGSS) and other similar standards based in three-dimensional science learning invite students to engage in the scientific and engineering practices that scientists do as part of their daily work while applying crosscutting concepts to address core ideas.
"The techniques [for remote learning] are similar," Kristen Dotti, an educational consultant and trainer who leads workshops on implementing hands-on remote science education, explains. "Get something into your kids' hands. Have them record or discuss the things that are going on—the mental process of collecting information, sharing information, trying to figure out what's happening. Those explanations, that's all inquiry-based, phenomena-based, NGSS-based [learning]."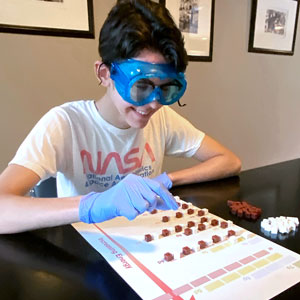 Engaging learners with concrete examples.
Overcoming Challenges in a Remote Environment
In a face-to-face science classroom, teachers take specific steps at the beginning of every school year to create a supportive community among learners and establish an environment that promotes student involvement and effective hands-on investigations. Those steps need to be recast for remote locations or while social distancing in a classroom to introduce students to how these new learning communities can function positively. From the start, expectations need to be established that science learning in these new situations will be engaging, address social and emotional needs, and support all students' learning with materials for motivating hands-on labs.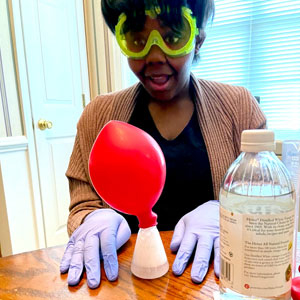 Generate excitement and reassurance with your student labs.
"The phenomena have to be relevant, accessible, and interesting to the student...."
—Brett Moulding, National Academy of Sciences Board on Science Education
Motivation
"The way you have a successful school year when you're in the classroom largely depends on the community, the norms you establish during those formative weeks when you're first getting to know your students and they're getting to know you," Lauffer says. After becoming familiar with communication strategies—such as addressing technical issues, setting up emails, establishing how to post an assignment, and resolving how to reach students who don't have high-speed internet access or digital devices—teachers can offer videos to introduce themselves and to generate excitement and reassurance about the types of labs students will be doing.
To motivate learning, introduce students to phenomena that:
Inspire curiosity
Are relevant
Are accessible through either direct observation or authentic data collection
Engage students in scientific and engineering practices
"The phenomena have to be relevant, accessible, and interesting to the student," Brett Moulding, a member of the National Academy of Sciences Board on Science Education and of the National Research Council committee that developed the conceptual framework for K–12 science education, explains. "If they [students] don't find them relevant, they may just try to dry lab, and by that I mean looking it up online."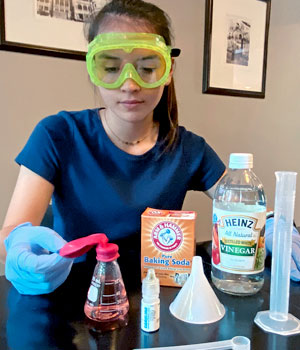 Student-centered science labs with class discussion.
Social and emotional
Another hurdle for educators, Dotti says, is simply getting students into the virtual room. "Getting all the kids into the room is like getting all the kids to sit on the carpet in the fifth grade," she explains. "A lot of the reason [high school] kids come to school is to talk to their peers. We have to find ways to make the social-emotional aspect of school show up."
Early in 2020, when most US schools switched to remote learning at the onset of the COVID-19 pandemic, Dotti notes that teachers who focused on lectures had greater attrition than those who encouraged collaboration. While hands-on science labs are student centered, effective labs guide students to collaborate as they share artifacts of learning and engage in scientific discourse. "All investigations should have that class discussion," Moulding says, noting that collaboration tools should accommodate quality classroom instruction as well as small-group and individual interactions.
"Be realistic about how much content you'll cover," Dotti advises. "Teachers [in the spring] felt really pinched about the content . . . These are things we now know about the medium. The fact is that 1.5 hours on a video meeting means 45 minutes of teaching content and skills and 45 minutes of collaborating: asking how they are doing, what did you think of this idea, talk to your partner about this. They don't know that's an NGSS practice, a defensible argument, an evidence-based argument."
Materials
Ensuring students have the materials needed to carry out equitable hands-on investigations that guide them toward making sense of a phenomenon and driving question may seem insurmountable. During her professional development workshops, Dotti says she typically hears teachers say: "Gosh, I wish there were something more sophisticated than what they have in their kitchen or living room. I wish they had some lab materials at home. I wonder if I can gather some things before next school year and have them sent out."
Look for programs that provide every student and teacher with:
All the materials needed to complete hands-on three-dimensional investigations either at home or in the classroom while practicing social distancing
Virtual simulated labs that offer a direct observation of phenomena and allow students to learn through variable manipulation, data analysis and visualization, and trial and error
Investigations providing opportunities for student collaboration even though they are not side by side or even in school together
Quality materials coupled with teacher support can give educators the tools they need to keep students curious and motivated in remote science learning.
"Be realistic about how much content you'll cover," Dotti advises. "Teachers [in the spring] felt really pinched about the content . . . These are things we now know about the medium."
—Kristen Dotti, Educational Consultant and Trainer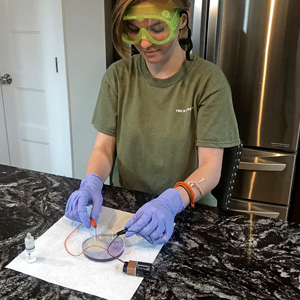 Keep students motivated in remote science learning.
Discover the Carolina Kits 3D® FLEX Program
Be prepared to teach grades 9–12 science investigations no matter what. The Carolina Kits 3D® FLEX program is a complete NGSS/three-dimensional lab solution that includes digital learning and safe, effective, hands-on lab kits that transition easily between in-class and socially distanced learning. Available for chemistry and biology, each full-year course provides equitable lessons with rigorous, relevant content for consistent results.
To learn more about the program, please complete this form.
*Next Generation Science Standards® is a registered trademark of Achieve/WestEd. Neither Achieve nor the lead states and partners that developed the Next Generation Science Standards were involved in the production of, and do not endorse, these products.