Teaching About the Human Body Systems
Carolina Staff
March 2018
Creating a consistently engaging, exciting experience for students while teaching the systems of the body can be daunting. By providing your students with many hands-on investigations, you can easily keep them interested and motivated.
Using models in the classroom and providing opportunities for dissection and comparison between organisms, all while teaching proper laboratory safety procedures, are proven ways to teach students about the human body. Students thrive on information that is applicable, and there's nothing more relevant and engaging than learning about themselves.

Free resources from Carolina
The human body is an intricate network of systems that work together to keep us alive. These intricacies mean students need to understand organ systems, organs, tissues on the macroscopic and microscopic levels, cells, and the biochemistry that allows for normal functions.
To help teachers address the structures and functions of the human body systems, we created the Human Body Systems series. It's a remarkable set of free resources for teaching the 11 body systems.
The series is organized around an introductory infographic of a human body with links to each body system. For each system:
A full-color infographic details the main functions and organs within that system

An in-class activity or investigation builds knowledge

A comprehensive guided review allows students to assess their understanding of the body system
Focus on an individual body system, or use the information for a unit introduction or a comprehensive course review.
The infographics depict both gross anatomy and microscopic anatomy for each of the 11 systems. In these infographics, you'll see organs and organ systems placed on a "blue man" to help students with spatial accuracy for future dissections and study. You'll also notice that organs and tissues are labeled, and when applicable, specialized cells are enlarged and labeled. All of the infographics can be printed.
The activities allow students to build on the requisite anatomy and physiology content. Activities include guided readings on specialized system content, small group hands-on activities, and inquiry-based laboratory exercises. Every human body system activity is unique and presented in a downloadable and printable format.
The body systems review guides include a section of vocabulary review, structure diagrams, a section of system disorders and/or diseases, and a writing prompt that asks students to compare the body system to another inanimate system. You can also download and print the review guides.
Are you ready to enhance your body systems curricula? Check out Carolina's selection of models, dissection specimens and supplies, instructional materials, and safety equipment.

Teaching human body systems with anatomy models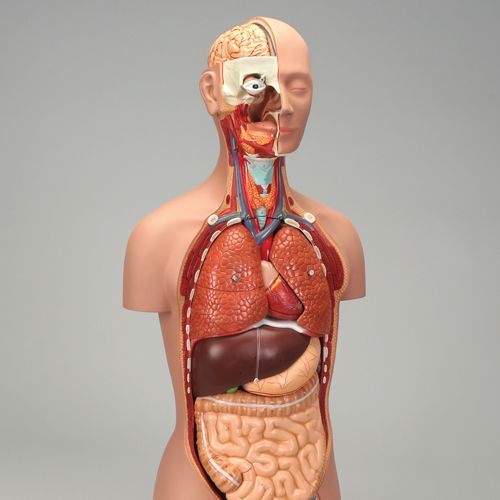 Carolina offers a complete selection of 3-dimensional models at the body and organ levels. Unlike 2-dimensional graphics, models offer a more lifelike portrayal of complex objects, making them easier to understand. This is especially true of anatomical models, which play a major role in hands-on learning for students studying human body systems.
Depicting the smallest of living structures, cell models help students understand cellular structure. Models of enlarged organs, such as the eye and skin, make small details and structures easier for students to discover and identify. Comprehensive representations of organ systems, like circulatory system or digestive system models, are great tools for students who need to see the flow through a system, the spatial relationship among organs in the system, and the placement of the system within the body. Torso models help pull together all the body systems, allowing students to see the connections and cooperation between the systems of the body.

Dissection to teach human body systems
Few experiences in the life sciences compare to dissection. Students thoroughly enjoy the opportunity to suit up and participate in this memorable, engaging, and interactive experience. Dissection supplies such as dissecting trays, dissecting scissors, and scalpels give learners the chance to feel they're in an authentic laboratory or medical setting while enhancing their understanding of body systems.
Based on the body system being studied, students can dissect a preserved mammalian organ, such as a brain, kidney, heart, or eye. During thorough examinations of individual organs, students can easily relate structure to function.
Carolina offers a wide array of whole specimens for dissection, from simple invertebrates to complex mammals. If you're teaching a class that emphasizes comparative anatomy, start with dissections of invertebrates, such as earthworms or grasshoppers, to get students interested and to introduce dissection techniques. Follow with dissections of higher vertebrates like frogs to give students the opportunity to compare body systems and structure and function between different classes of organisms. Preserved pigs offer a fantastic glimpse into the mammalian body and can give your class a first-hand look at body systems that are much like their own.
Choose Carolina's Perfect Solution® specimens, our formaldehyde-alternative, for your dissection experience. This tissue fixative produces safe, non-toxic specimens that have lifelike tissue texture and color.
For new teachers or for teachers who are new to dissection, we offer inexpensive and reusable dissection mats and flip charts that walk students through a complete dissection—with concise, step-by-step directions and full color graphics. Do you need to refresh your skills? Carolina provides complete teacher's manuals with all dissection kits. Plus, you can access free content concerning dissection safety and other relevant information about preserved specimens (such as storage and disposal).

Teacher support materials
Carolina can also assist you with materials for additional human body systems activities with a vast selection of hands-on laboratory kits. Our kit activities range from simulations of blood and urine analysis using synthetic products for student safety to guided-inquiry explorations of vision acuity, olfactory fatigue, and differentiated skin sensations. Many of our kits come with free digital resources so students have opportunities to complete prelab activities online at home and submit a completed lab digitally. The digital resources give you the ability to use kit graphics as whiteboard resources and edit kit assessment questions so instruction is tailored to students' needs.

Safety in the lab
While sharing your love of science with students, remember to do so safely by following appropriate precautions. Although preserved materials like Carolina's Perfect Solution® have made dissection safe for students and teachers, proper personal protective equipment (PPE) is always recommended in the science laboratory. Gloves, goggles, and aprons are important parts of a safe experience for students when working in the lab. A safety agreement shared early during the course outlines behavioral expectations for students and calls out specific actions to keep students safe.
Studying the human body as a short unit or as the focus of a course provides opportunities for engaging activities across a myriad of formats. We're here to help you and your students with resources and materials that simplify and challenge, introduce and review, and promote critical thinking and hands-on learning. Learning is equal parts brain, heart, and muscle!